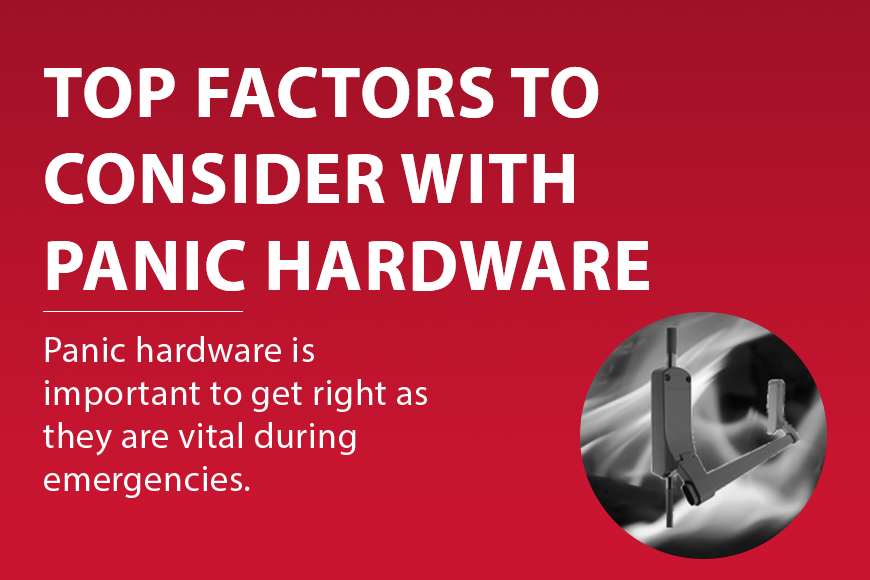 Have you considered the following…
Many ask what is the difference between panic hardware and fire exit hardware. A general term which both offer is an "exit device". A panic device or a fire exit device as it may also be referred to as, are both used in an emergency.
There are different forms of panic hardware, including a panic exit pad, a panic exit bar and much more. Exit digital locks, bolts and devices are among the panic hardware accessories which should all be considered prior to purchasing. An emergency door release, emergency exits and an evacuation plan are all essential in any building where a large number of people are present.
Most premises owners choose to combine panic hardware and enable devices on fire-resisting doors to cater to all emergencies.
Top factors to consider
Different types of panic device
Choose the most appropriate device for your users. Various groups of users will have differing escape requirements, reflected in the type of device chosen. If the majority of a group of users, such as the general public have no training in emergency procedures, they may panic in a rush to escape. Therefore the exit device you choose must be easy to use and self explanatory. Other buildings maybe used by groups of people who have been trained in emergency escape procedures, therefore making them unlikely to panic and calmly use a more secure panic device, such as a Gatemaster panic pad, with digital lock system, designed to allow people to exit safely from the inside and access from the outside via a preprogrammed keypad code.
Where escape route doors are located
Choose the easiest escape path for users.
Additional requirements where escape routes are fire compartment require consideration
Building owners will need to ensure escape hardware does not compromise the fire-resist performance of a door.
For more information on Emergency Escape, please view the link below:
Emergency Escape and Fire Fighting – Health and Safety Authority
Emergency procedures must also be in place and practiced to ensure safe evacuation in the event of a fire.
Does your company meet current Safety Regulations?
With our panic hardware range easy to fit, reliable and proven, why not update your current exit push bar or push pad hardware today?
Or if you haven't purchased yet, please consider the above top factors and contact one of our hardware specialists to seek further advice, based on your unique requirements.
Depending on the scale of your premises and various other conflicting legislations, the right devices must be matched with the appropriate group of users.
Due to all the considerations described above, panic hardware is divided into areas across the market:
Panic exit devices (for use in panic situations)
Emergency exit devices (for use by trained groups)
Exit device accessories
Additional requirements, hardware and accessories for security doors will be required.
For more information on sufficient Fire Safety Regulations, please view the link below:
Fire safety
Most fires are preventable. Those responsible for workplaces and other buildings to which the public have access can avoid them by taking responsibility for and adopting the right behaviours and procedures.
We stock a large range of high quality panic hardware, all manufactured in the UK. Both our panic exit pad and push bar options are fire rated for use on both timber and steel doors and gates, to cater to all individual requirements.
If you would like more information about any of our panic hardware range, simply contact us to enquire.