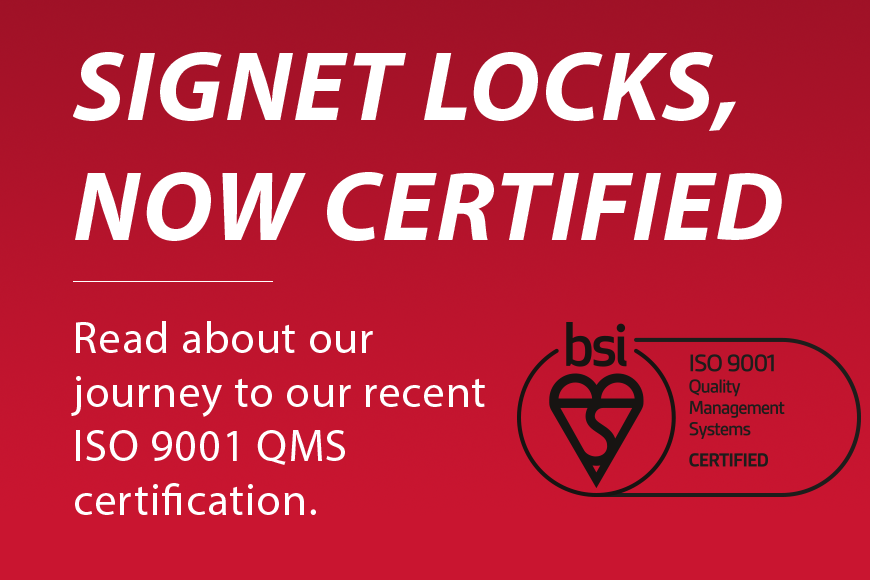 We are pleased to announce that Signet Locks, part of Gatemaster Ltd., has achieved the internationally recognised certification ISO 9001:2015 for our Quality Management System. This achievement comes as part of the continuous improvements we have implemented internally.
ISO 9001 is a business improvement tool aimed at streamlining the internal processes to ensure operational excellence throughout an organisation. The certification is a powerful signal to all stakeholders – external as well as internal – that quality remains at the heart of how we do business. And this promise means more now than ever before.
If the last years have taught us anything, it is that resilience is a necessity. With the tools of our Quality Management System, we can continually monitor and manage our business processes and create an even more resilient and sustainable business.
Our QMS, named "The Gateway to Quality", comprises of the design, manufacture, assembly, and distribution of metal and wooden gate hardware for domestic, commercial, and offshore applications covering products manufactured on-site and supplied on a regular basis as well as any one-off projects that require bespoke engineering and project management.
"As a business, we are incredibly proud of this achievement", Managing Director Simon Napthine says. "We have always put quality and good service at the forefront of everything we do, and this accomplishment is the pinnacle of our efforts".
But the hard work doesn't stop here.
Our work is on-going, and the continuous improvement of our processes will continue to be a top priority going forward. Key Performance Indicators on monthly reports (internally known as Bowlers) will ensure we do not deviate from our collective business aims.
Reviewing our performance continuously and actioning any necessary countermeasures ensures our continuous endeavour of excellence in delivering customer satisfaction.
If you would like more information about our certification, feel free to reach out on +44 (0)1243 552 066.