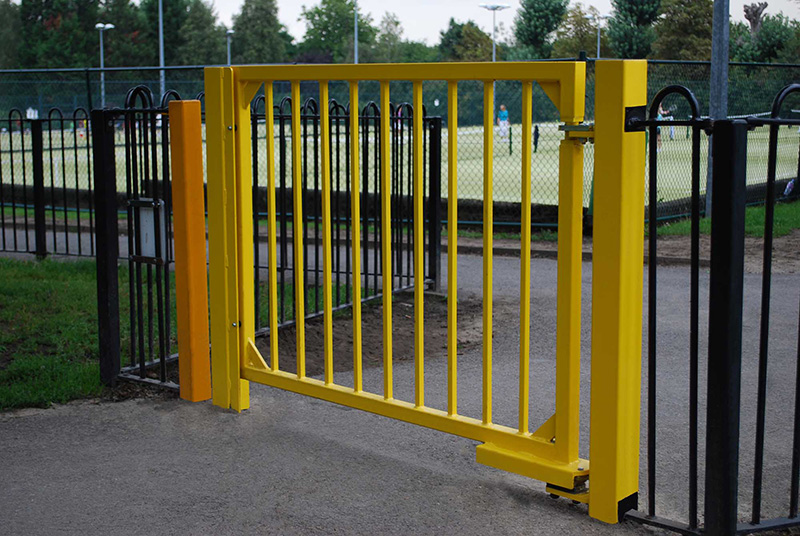 Think it's child's play installing a safe gate in a playground? Think again!
You are installing a gate at a school, playground, or other public place frequently used by children and it all seems fairly straightforward. After all, it's just another gate, right?
Well stop! Have you considered the risks of finger traps, trip hazards and pinch and crush points?
Gates are not without risks, and especially in public parks, playgrounds, or other areas that are used by children. Children can easily be injured if they run into a closing gate following another child or from pinching their fingers. It can cause serious harm if a child gets their fingers stuck at the open side or at the hinged side of the gate.  There can be additional risks of latches sticking out as they are often at a child's eye level.
Luckily, there are recommendations to help you make safe gates for children in these areas. Read along as we cover the basics.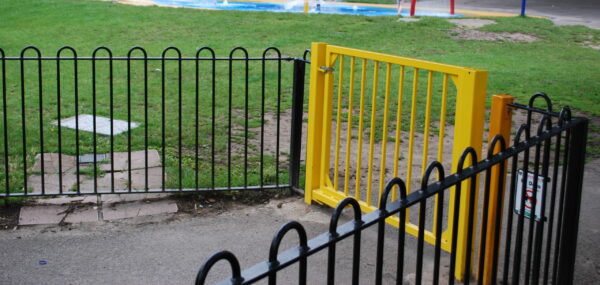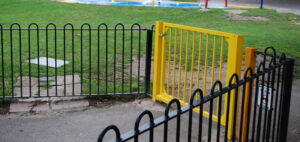 ---
How to ensure safe gates for children
Children play with and on anything, which is why it is even more important to make the surroundings as safe as possible. This isn't just limited to the play area itself, but also the gates and fencing around it.
Railings
One of the first things to consider is the type of railings you use. Standard vertical bar railings have sharp edges on top, which can cause injuries such as impalement and head entrapment. To eliminate this risk, using bow-top railings is recommended. Thanks to the shape and positioning of the bars, bow top railings are still difficult to climb, and reduces the other risks of injury.
Access and exits
Accidents will still happen, and it is therefore important there are sufficient access points. RoSPA recommends having at least two access gates so children can get out if one gate is blocked.
The access gate opening needs to be minimum 1 meter wide when open to allow access for people in wheelchairs. The emergency access gate needs to be minimum 2.15 meter wide to allow ambulances to gain access in the case of emergencies.
Gate closure
The use of a self-closing mechanism is strongly recommended to maintain the gate in a closed position. This is both to secure the surroundings and make sure animals can't easily run into the play area. In addition, if a gate is left open, there is a higher risk of a child running into it while running around.
Gate closing mechanisms reduce these risks. But you can't just use any old gate closer!
It is important to make sure you choose a gate closer that requires little maintenance and has an adjustable closing speed. Some gate closers, such as a spring closer, will ensure the gate closes, but doesn't have much adjustability. This means the gate will close quickly and can potentially strike a child going through the gate.
Using an adjustable speed gate closer such as the Gatemaster APS prevents this when the speed is adjusted to the correct speed. It is recommended that the closing speed needs to be more than 5 seconds.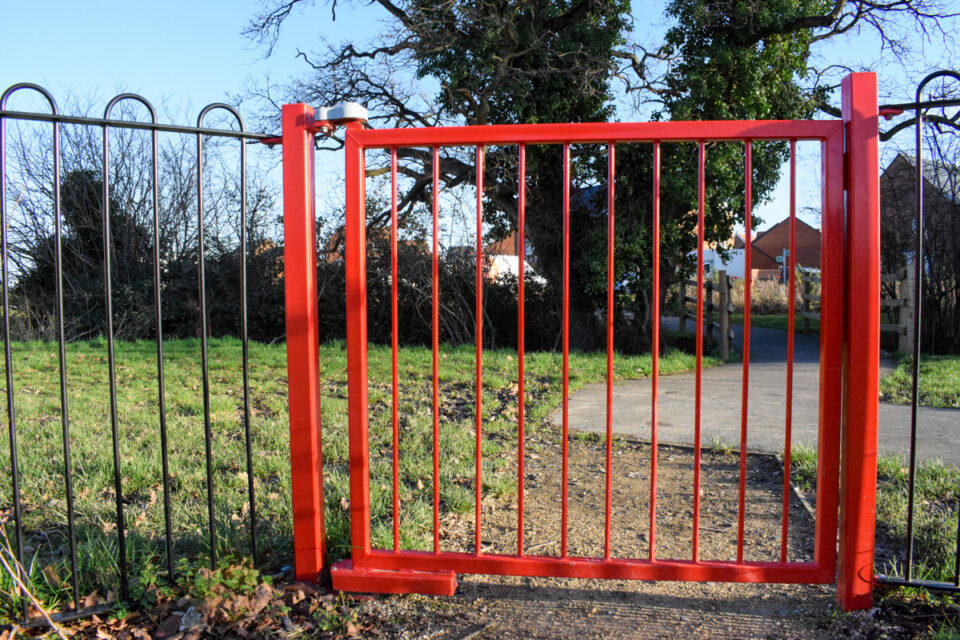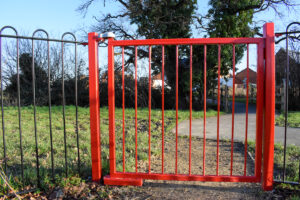 Gap between the gate and gate post
It is important that there are no finger or hand traps and shear points. This means that there should be a minimum gap of 12mm between the gate and the posts both sides of the gate. This minimum gap should be maintained throughout the full range of movement of the gate throughout its full arc.
Ground clearance
To avoid foot injuries, the recommended clearance of between 60 mm and 110 mm should be maintained beneath the gate to reduce foot injuries.  In addition, the ground should be levelled to prevent this gap closing through the range of movement.
Play areas experience heavy foot traffic through the access gates. To keep the entrance in good condition, there should be a hard standing at least 1 m each side of the gate to prevent ground wear.
Heavy gates
If the gate is heavy or has high mass, there should be a closing mechanism that prevents it slamming into the back of a child passing through. This requires a strong gate closer with suitable adjustability. They will also require heavy duty hinges and other fixings.
---
Get confident with gate safety
As you can see, there are many things to consider when you want to ensure the gates and railings are safe in areas used frequently by children. Hopefully the above has given you some insights into best practices and you now feel equipped to fit that gate on the playground! If you want to know a bit more, we recommend contacting RoSPA or Gate Safe for even more information.
Here at Signet Locks, we can help you make sure the gate closure is controlled, adjustable and safer.