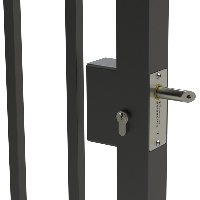 Our weld in gate lock range is specifically manufactured to securely weld into a gate frame of your choice…
Any hardware you choose to install should be compatible with your gate specifications, to secure and protect your property at a sufficient level. A weld in gate lock blends seamlessly when incorporated into a gate frame.
If you are unsure of which types of gate lock you require, these definitions may help:
Latch Deadlock – Can use a handles to operate if preferred – deadlock capability too for extra security
Keylatch – Latches shut – requiring a key to open
Deadlock – The lock is key operated – either locked or unlocked
Latch – Uses only a handle to operate the latch
Whether you're looking for a traditional deadlock, keylatch or one of our other Select Pro gate locks, designs both with or without a handle, we provide a vast collection to suit everyone's requirements.
Both our Select Pro and Gatemaster weld in lock ranges are reliable hardware brands. One of our weld in gate locks, the quick exit gate lock features a highly secure easy to use locking system. Some of our weld in gate lock models include 5 pin eurocylinders for smoother action and heightened security, with long adjustable bolt lengths of up to 30mm for both left and right handed users. The stainless steel bolt range throws an impressive 30mm in one swift turn.
The key aspect to keep in mind when purchasing, is to simply invest in the gate lock which best fits your needs.
Each weld in lock includes a long lasting reliable eurocylinder locking system. Please ensure the hardware you select is suitable for your application prior to purchasing.
For more information about weld in locks simply select the link. Please view our entire range of weld in locks today,
Perhaps you're looking for an increased level of security, our weld in lock with vertical bolts is perfect, or for extreme security our 10k heavy gate lock, is designed to provide maximum protection and security for your home or work premises.
The majority of our adjustable weld in lock designs are square, a distinctive shape suitable for both traditional and contemporary gate styles, for various sized gates.
When a lock is welded into a gate, it becomes extra robust and therefore less susceptible to vandalism. Each lock supplied by us, is subject to 1000 hours of intense salt spray testing, to ensure it will tolerate all weathers.
– Signet Locks –
Orders can be placed online or via phone, fax or email