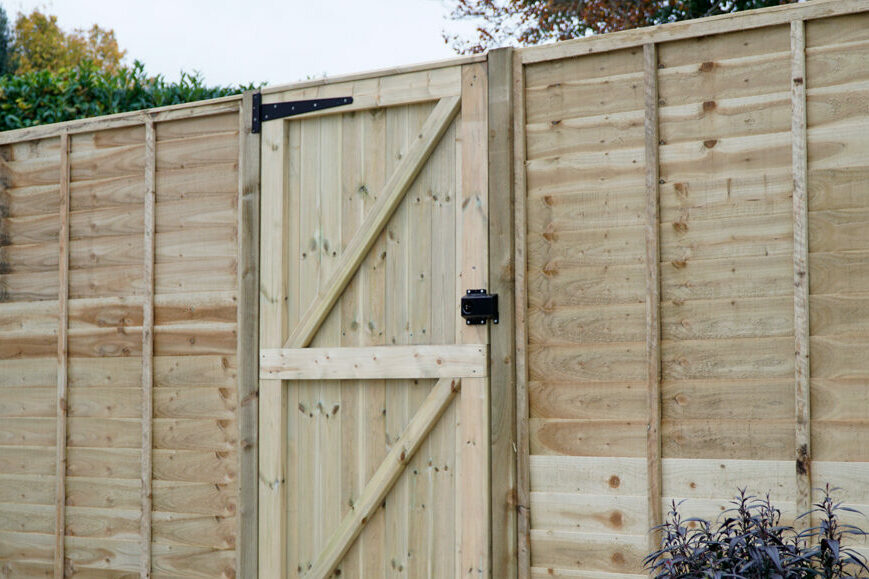 Why you should use a garden gate lock
Putting up fencing around your property is a popular way to increase kerb appeal. But it's rarely just for looks. With security being one of the number one reasons to install a gate and fencing, your new wooden garden gate needs to be secured too.
There are several options when it comes to garden gate locks for timber gates and there are benefits to them all. In this article we take you through some of the most common options and give our two cents as to why we would recommend using a keyless combination lock on your garden gate.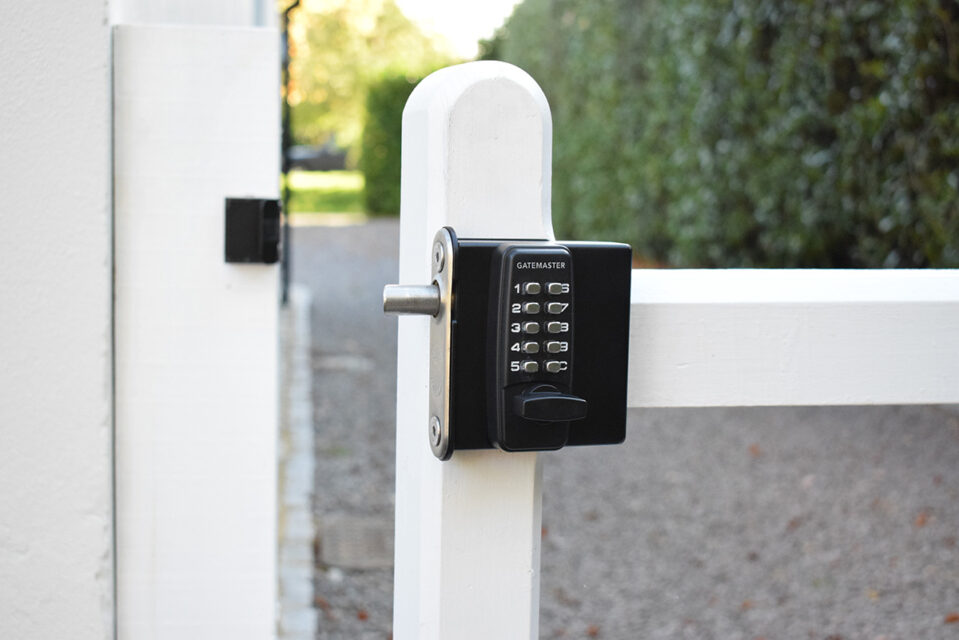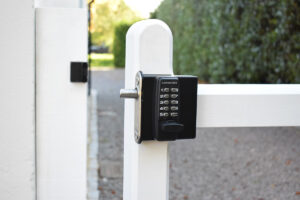 Wooden gates and the seasons
Before we dive into the different lock types, it is important to know how softwood timber gates and fencing can react throughout the year.
As wood is an organic material it will change and respond to the weather, especially if untreated. This means that during winter, the wood can swell as the moisture levels increase during rain or snow. This can cause a pinching of the gate locking mechanism as the wood pushes on it.
During warmer weather, the heat will cause the water to evaporate and can dry it out further. This in return will cause the gate or fence to retract, which can leave gaps that are too big. A lock can sometimes be useless in such a situation.
No matter what lock solution you choose, you should keep this in mind and choose a garden gate lock that allows for tolerance in the throw. It is preferable to choose a lock that isn't at risk of pinching either.
That brings us to some of the common lock solutions, their advantages, and disadvantages.
---
Common garden gate locks
The simple gate latch or hasp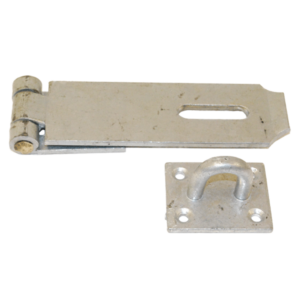 This is one of the most common garden gate locking mechanisms out there. They often consist of a hasp or latch and they can be locked with a padlock. A popular solution that you have probably seen countless times before, because:
They are simple to use
You can buy them in most DIY shops
They are generally low cost
They allow you to leave your gate unlocked making it easier for you to use the gate if working in the garden
Although a simple mechanism, using a padlock isn't necessarily the most convenient.
They are easy to lose – unless you secure the padlock to the gate every time, it can easily be lost or stolen
It's an inconvenient process – you have to remove the padlock, store it somewhere safe and put it back
Forgotten and lost keys – keys are easily forgotten or lost and especially a small one for a garden gate padlock
They are exposed – low-cost padlocks are easily snapped, and combination padlocks are more vulnerable to picking
Mortice lock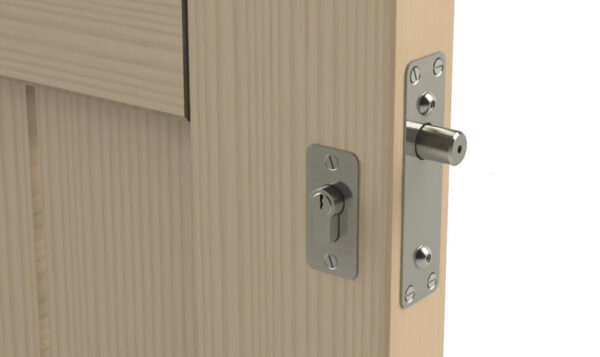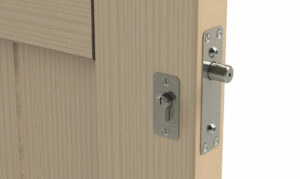 Mortice locks sit within the timber gate frame leaving only the lock cylinder, front plate and handles visible as shown in the picture.
To install a mortice lock on a wooden gate, you have to chisel a slot to fit the lock into. When done correctly and neatly, a mortice lock will be a stylish solution which sits flush with the gate frame. This makes them popular with garden gate owners.
However, it can be difficult to chisel the perfect slot for the lock, which can make the end result look less than ideal. We would recommend that if you have decided on a mortice garden gate lock that you get a professional carpenter or wood fencing specialist to fit it for you.
Tubular latch and keypad
Another popular option is the tubular mortice latch and keypad combination locks. This lock configuration combines the latching lock with keypads for a secure keyless combination lock.
This is another option that is easy to source from DIY shops. However, if you are not happy to chisel the slot for the tubular mortice latch, this will not be the lock for you. If you are still after a digital solution to secure your garden gate, then keep reading!
Surface-fixed locks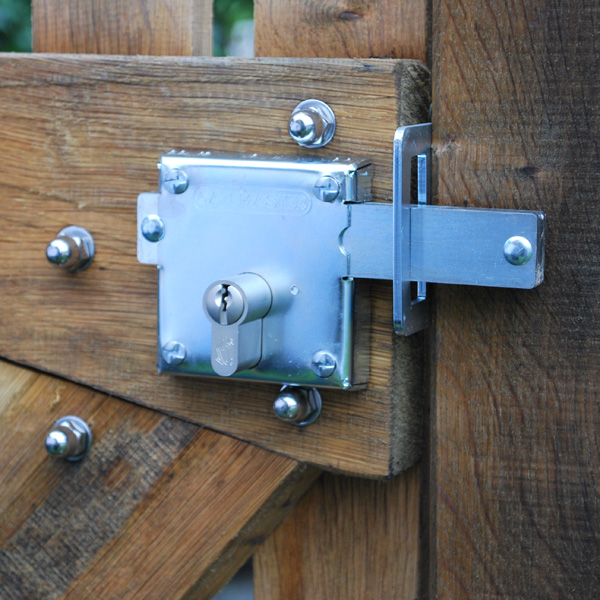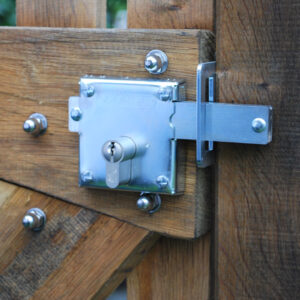 If the idea of using a chisel sounds less than ideal to you, might we suggest getting a surface-fixed garden gate lock. A surface-fixed lock is usually installed by fixing the lock to the gate using standard screws. There is therefore no chiselling required, but you might need to drill holes through the front of the gate.
A surface-fixed lock might seem like it would be easy for outsiders to dismantle, but they are fixed to the inside of the gate and are not easily removed.
So, if you want to be able to fit your new garden gate lock quickly and with ease, we recommend going surface-fixed!
---
Why should I use a garden gate lock with a code?
So far we have covered different common types of garden gate locks, their advantages and disadvantages based on installation and convenience of use. The most common type of gate locks are usually key access because they are more readily available, often lower cost and seen as a simpler solution.
We are here to make the case for keyless entry for wooden gates though. This gate access is increasingly popular for the same reasons why door locks with combination keypads are popular:
Increased security – key access can be a point of weakness for the lock. It is often quicker to pick a key lock than it is to crack a code
Limit security breaches – when keys are lost they can present a serious security risk as they potentially give an outsider access to restricted areas
Quick code change – if security is breached, it is often quicker to change the code on a combination gate lock than cutting new keys for everyone
Durability – the locking mechanism is concealed inside a keypad lock which gives better security and better protects against moisture and rust
Easy distribution – if several people need access to the same gate, it is much easier (and cheaper) to give newcomers a code rather than having new keys cut and distributed
No key, no problem – using a code for entry is convenient for larger sites and companies because there can often be several access points all needing a different key. Remembering a code is easier.
---
Choose the right digital garden gate lock
Although the market for indoor digital locks is vast, few are suited for outdoor use. Luckily, we offer a range of keyless combination gate locks specifically designed for exterior gates.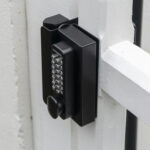 The BDGW is the surface-fixed digital Superlock. It looks similar to the bolt-on Superlocks for metal gates, but this one can be fitted to wooden panels with standard wood screws and requires no power. With the fully stainless steel keypad, it is a lock made for the outdoors and the adjustable latch bolt provides the tolerance needed for wooden gates.
Available with keypad both sides or keypad one side and thumb turn on the other, you can find more information on the product page.
A slightly simpler solution, the Superlatch is one of our newest products. Just like the BDGW, it requires no power, is made from stainless steel and is fixed easily to timber gates. This keypad garden gate lock has the mechanical keypad on the outside and a simple latch mechanism on the inside. This makes it easy for you to exit your gate, while still maintaining a secure perimeter.
Complete with an integrated shroud, the Superlatch has much to offer. Click here for more info.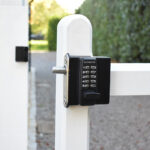 This is the surface fixed lock that started our range. The DGLW is the wooden gate lock in the Select Pro range and is recognised by its square lock case. Similar to the BDGW, it comes in both a single-sided and a double-sided version, however the DGLW only has a keypad with 10 buttons as opposed to 14 on the BDGW.
With its marine grade keypad, it is a lock made to last. Find out more about it here.
Want to know how to actually install any of these garden gate locks? Watch the "How To Install" videos on the Gatemaster YouTube.
If you still prefer a lock with a key for your wooden gate, have a read through our other blog where we list all our options for wooden garden gates.