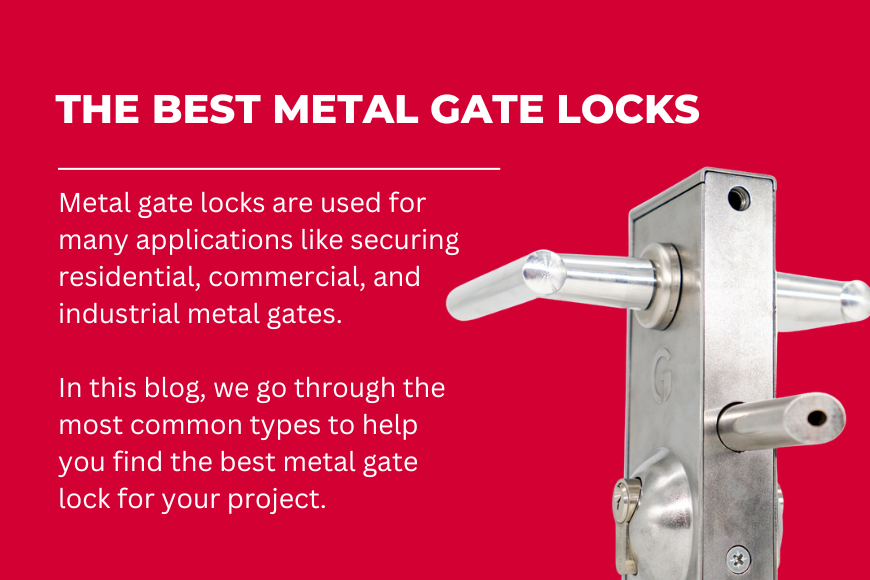 Metal gate locks are used for many applications like securing residential, commercial, and industrial metal gates. Naturally, there is a wide variety of different metal gate locks out there! In this blog, we go through the most common types and their pros and cons to help you find the best metal gate lock for your project.
1. Gate latches and hasps
Gate latches are arguably one of the most common pieces of hardware on gates across the UK. More often than not, a latch is just another way to ensure your gate doesn't blow open in the wind. But you can get latches that can be locked with a padlock or has an internal locking mechanism.
Similar to a lockable latch, your standard hasp will offer a bit of security as they are designed to be secured with a padlock. These are often found on wooden gates, but some options are made for metal gates.
The benefit of using a gate latch or hasp is that they are easy to source. Your local DIY shop will have options that will work for your metal garden gate. The relatively low level of security can be a disadvantage, but commonly gate latches are used as a way to keep a metal gate closed and not necessarily secured.
2. Padlock and chain
This is another simple solution we see time and time again. A metal chain wrapped around the gate leaf and gate post and kept locked with a padlock. This setup is often used to secure a double gate, but there are alternatives which we discuss in this blog.
Although a cost-effective and easily sourced solution, it is generally also an  inconvenient one. Every time you enter or exit, you have to unlock the padlock and take the chain off and put both somewhere safe. The chain can also scratch your gate finish leaving the metal vulnerable to corrosion if the protective powder coating or galvanised layer is removed.
3. Mortice locks for metal gates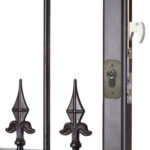 Mortice locks sit within the gate frame and are an inconspicuous option for metal gates. Also known as insert locks, these metal gate locks are similar to your standard wooden door locks. You can get mortice locks that latch, deadlock or even both.
As mortice locks sit within the gate frame, they are considered a higher security lock. But installing one on a metal gate requires more preparation than the previous two options. The metal frame has to be cut precisely to install this lock and cannot easily be done on an already-installed gate. Similarly, if you want to replace it down the line, you might struggle to find a lock that fits in the same slots. Replacing a mortice lock could therefore mean significant fabrication work is needed or even having to replace the entire gate.
4. Welded locks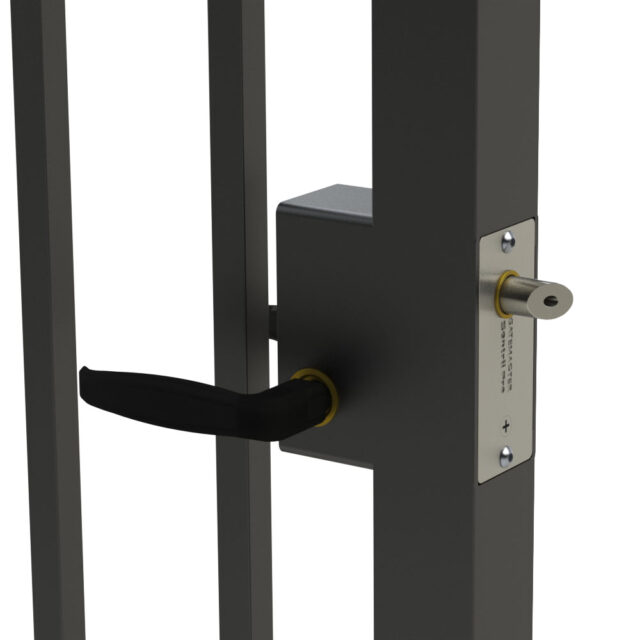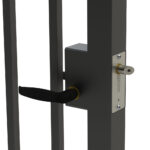 Similar to mortice locks, a welded lock sits within the gate frame. To install a weldable lock, you have to cut-out or remove a section of the gate frame and replace it with a weldable lock case specific to your chosen lock. The lock mechanism will be easy to slide back into in the lock case after the gate has been painted.
Weld-in locks are popular for metal gates as they are integrated in the frame. This also means they are considered a high security lock type of metal gates. But again, they require a reasonable amount of preparation before installation. You will also be limited for choice if the lock needs replacing later on. You might have to get the exact same lock or at least one from the same manufacturer to ensure the inner lock mechanism fits in the lock box already welded in the gate.
5. Bolt-on locks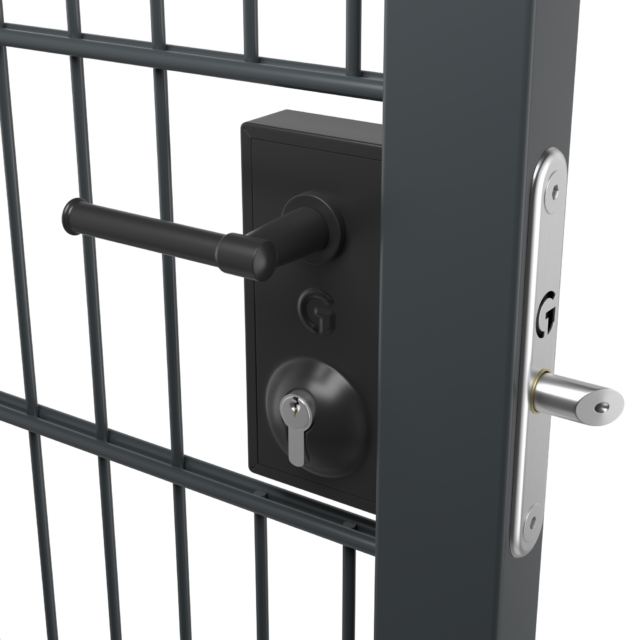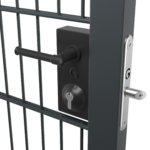 We have now arrived at our personal favourite type of metal gate lock: the bolt-on lock. These locks are installed 'through' the gate frame as shown in the below image. This means all it requires is drilling three holes (in the case of the Superlock range) and fixing it to the gate with the supplied bolts. And just like that, your lock is installed.
It also means they can be retrofitted to gates already installed.
You might think "If they are that easy to install, won't they be just as easy to take off for outsiders?". The answer is no. the locks can only be taken off the gate when the gate is already open. So, it's not like burglars can simply take the lock off to get in!
Bolt-on locks are usually installed the same way across a specific product range, meaning you can often replace your key lock with a keypad lock later if you want.
6. Surface-fixed locks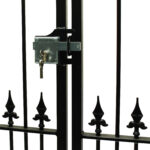 The final metal gate lock type we will cover is the surface-fixed lock. Similar to a bolt-on lock, this lock is bolted onto the gate. But instead of through the gate frame, it is fixed to the face of the gate. Commonly used for wooden gates, some surface-fixed locks can be used on metal gates as well; the Gatemaster Superlatch or the Gate Locking Bolt are good example of this.
---
What is the best metal gate lock for me?
Ultimately the best metal gate lock for your gate comes down to your priorities of three things:
The level of security needed
How much preparation of the gate you are happy with
And as always, price
If you are after a high security lock, we would suggest either weld-in locks or an insert lock as these stand out less in the gate. Where security isn't a big concern, maybe a simple latch or padlock will suffice.
If you want a lock that you can easily install yourself, a surface-fixed lock might be your best bet. But if you are happy to drill through metal, a bolt-on lock is probably the simplest installation of all the options.
Hopefully the above has helped clarify the difference between metal gate locks. Now you know this, you are better equipped to go out and find the best metal gate lock!
Want to know more about our metal gate locks? View the whole range here.