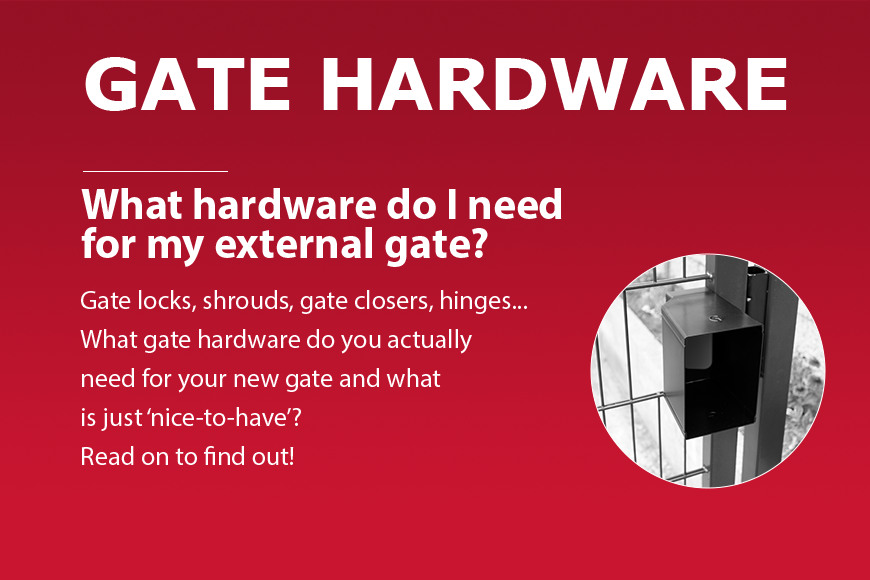 No matter what kind of gate you're getting, it will need some suitable hardware. But if you aren't sure what hardware you need for your external gate, don't worry we're here to help.
Read on as we tell you the must-haves and nice-to-haves of gate hardware.
What hardware do I need for my external gate?
The gate hinges
Before we consider anything else, we need to consider the hinges. Because hinges are ultimately what makes a gate function, and they are arguably one of the most crucial pieces of gate hardware.
It's important that you choose hinges that will be suitable for your gate. As the hinges carry the weight of the gate, a main consideration to make is the strength of the hinges. You want them to be able to carry the gate comfortably, but there is no point over-engineering and choosing hinges too strong for your gate either.
There is a wide range of different gate hinges, all with their own purpose. A few common types of hinges:
If you're not sure which gate hinges are suitable for your gate, you can find more information about different types of hinges in this article.
Depending on the type of hinge you end up with, you might also want to consider some additional security measures. For hook and eye hinges, there is a risk of the gate leaf being removable if the hinges face the same way. To stop this from happening, you can add a security collar on the top of the hinge.
There are many different types of these, all with their own merits. Here at Signet Locks, we offer the SCP – Security Collar as a solution to this problem.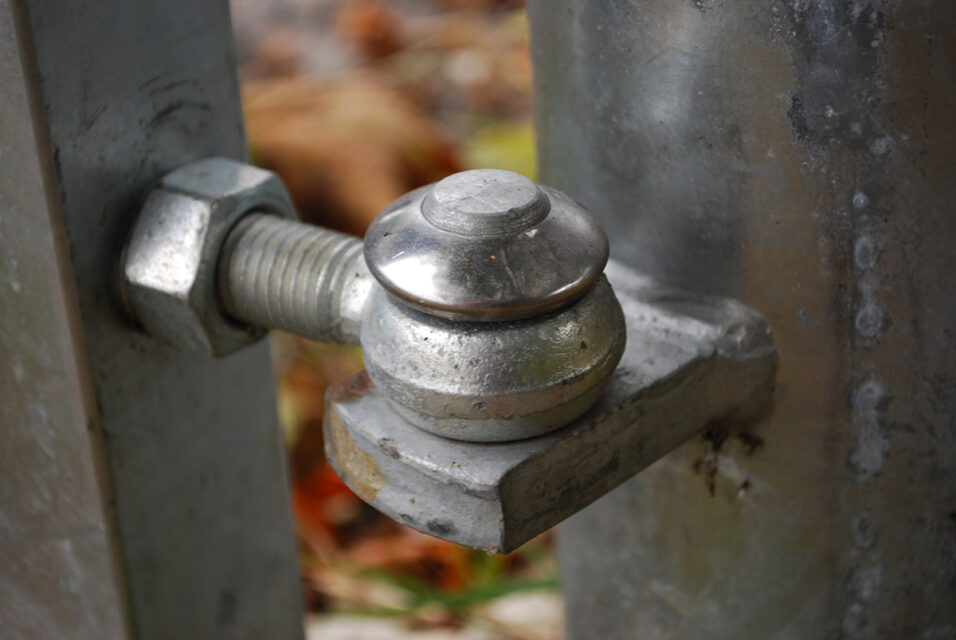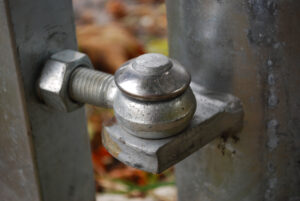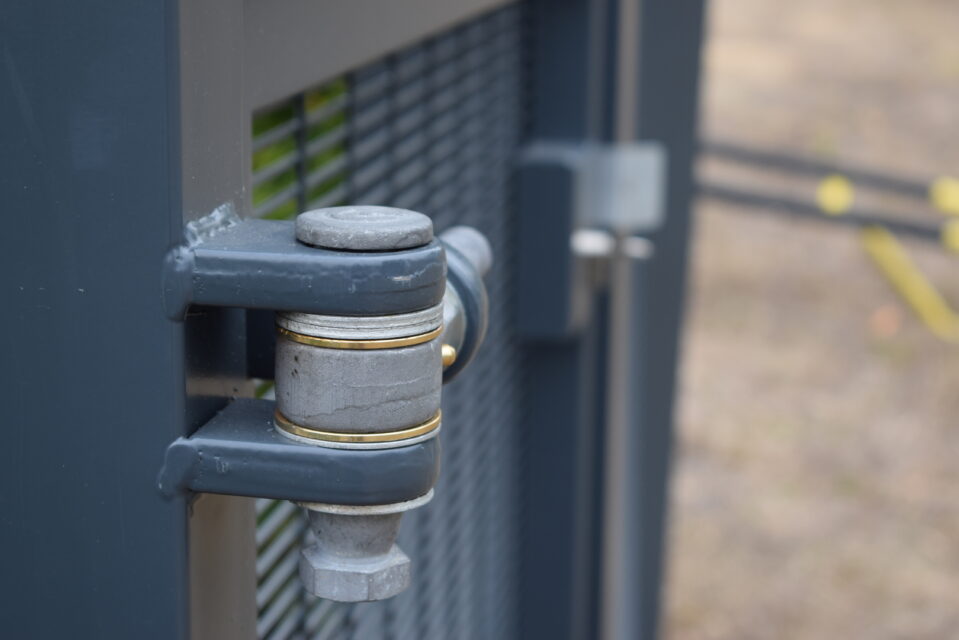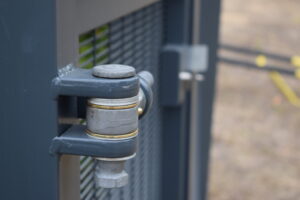 ---
The gate lock
With security often being one of the main reasons for putting up a fence and gate in the first place, the lock is another crucial piece of gate hardware.
There are a lot of lock options depending on your security needs. We won't mention all of them, but a few notable options are:
Deadlocks: Also controlled only with a key, a deadlock can only lock and doesn't latch. This means you have to turn the key every time you open and close the gate to keep it closed.
Latching deadlocks (or sashlocks): A combination of a deadlock and latch. These locks have a latch bolt but can be deadlocked for extra security. They have both handles and a key cylinder,

of which the key operates the deadlock and both the key and handle can generally operate the latch.

Digital locks: Digital locks are usually also a latching lock, which can then only be operated by the keypad by punching in a code.
Alternatively, if you're looking for gate hardware for a small garden gate and aren't concerned about security, the classic gate latch is a perfect option. It is a simple solution, and you will find them on the majority of small front garden gates.
A gate latch allows you to keep your gate closed so it doesn't blow open in the wind but offers no security on its own. If you want a bit of security, you can combine it with a padlock.

---
Gate keeps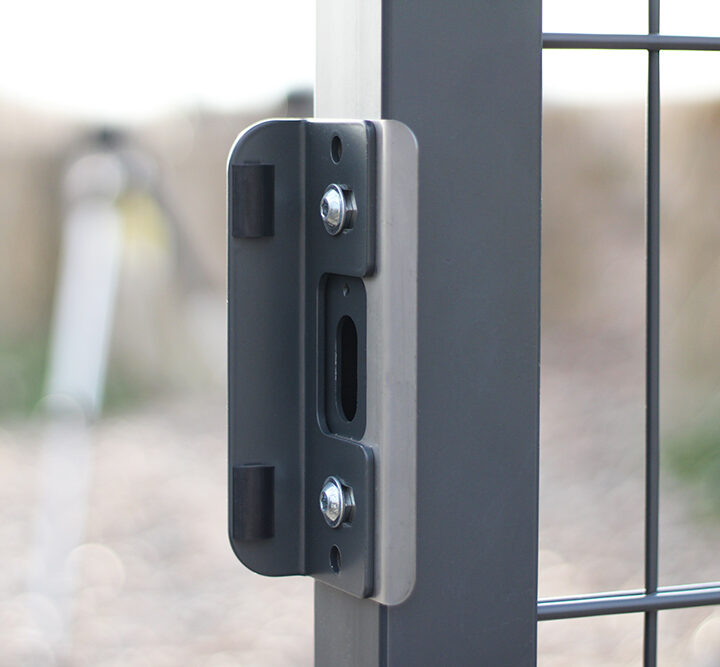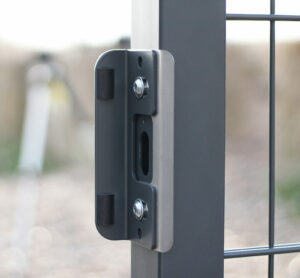 A gate keep is designed to house the latch bolt when the gate closed. This means it receives the latch when you close the gate.
A gate keep can be useful on a gate for several reasons:
It ensures the latch closes smoothly
It covers up the hole in the gate frame for the latch
It stops the gate from swinging in the wrong direction
It can add security
It can reduce the gate slamming sound when fitted with rubber buffers (something you can read more about here)
To learn more about gate keeps and why you should use one, check out all our tips here.
---
Gate shroud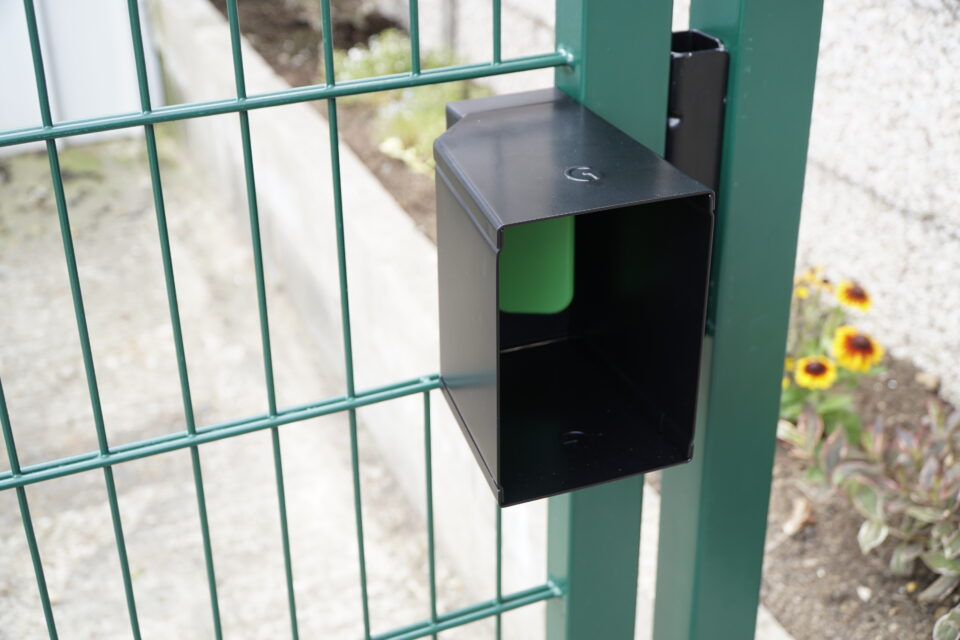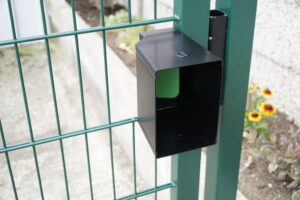 As an accessory to the gate lock, gate shrouds are designed to restrict access to the internal handle or exit mechanism of the lock. You can learn much more about this product by reading our blog about it.
In short, a gate shroud is designed to work with single-sided digital locks or locks with quick exits. Installing a shroud on these locks means that you can deter outsiders from reaching through your gate and opening it.
Whether you require a gate shroud or not will depend on the type of lock and gate you have. If you have a lock with a locking mechanism on both sides and no easy exit, you won't need a shroud. And if you have a solid infill gate or small mesh gate that you can't put your hand through, you won't have any use for it either.
---
The gate closer
We now move onto the more "nice-to-haves" of gate hardware. Although the gate may be fine without a gate closer, it's worth asking yourself if it would be beneficial for your gate set-up. A gate closer's job is naturally to make sure the gate closes automatically. It might seem like a luxury item to put on your gate, but here's a few reasons why a gate closer can be a good choice:
A closed gate is a secure gate
A closed gate keeps children and pets safely within the perimeter
Controlled gate closers offer a soft close, which protects your gate and your hardware
A soft and automatically closing gate reduces the slamming noises of the gate closing
It's important to remember that not all gate closers offer that dampened, controlled close, so it is definitely worth checking this. For certain areas, there are special recommendations for gates and gate closers, so check these out before you commit to a gate closing mechanism.
---
The drop bolt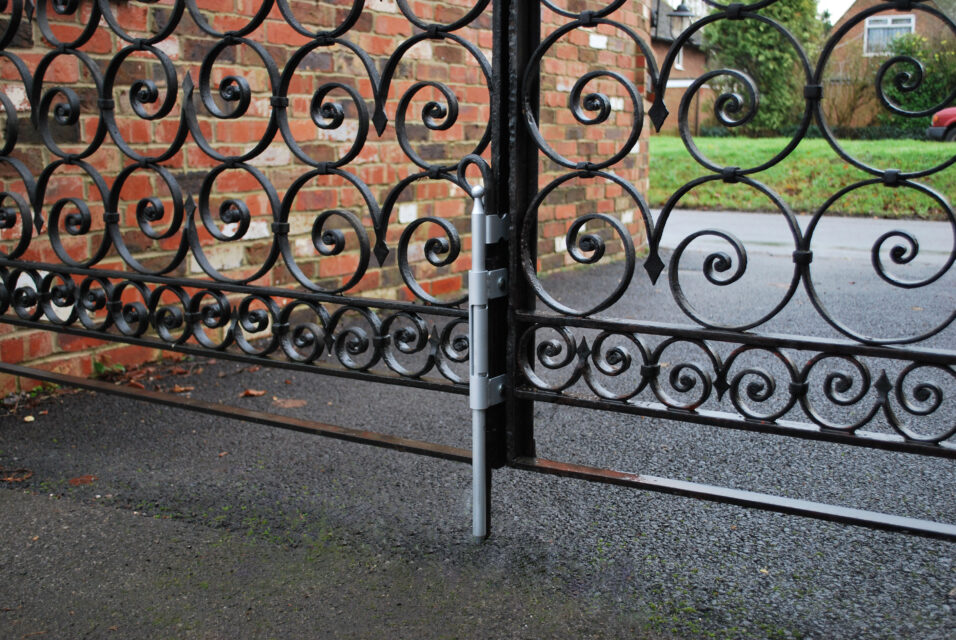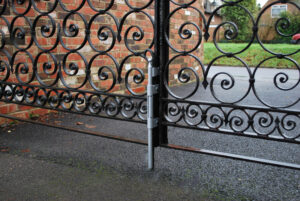 A more common "nice-to-have" piece of hardware is the drop bolt. They're often used on larger double gates such as driveway gates and make sure that the gates are secured or kept open during opening hours for example. They are usually easy to install and consists of a bracket and the drop bolt which is lowered into a hole in the ground. This ensures that that gate stays in the correct position whether this is open or closed.
If you have a double-gate, you will appreciate the difficulty of finding a way to secure lock your gates and preventing them from being pushed open. Certain locking drop bolts can help you with this.
The ADB for instance is automatically locked when the second gate leaf is closed. The lifting plate sits between the two gate leaves and is kept locked. This will help prevent outsiders being able to gain access by lifting the drop bolt and pushing your gates open.
---
The gate tether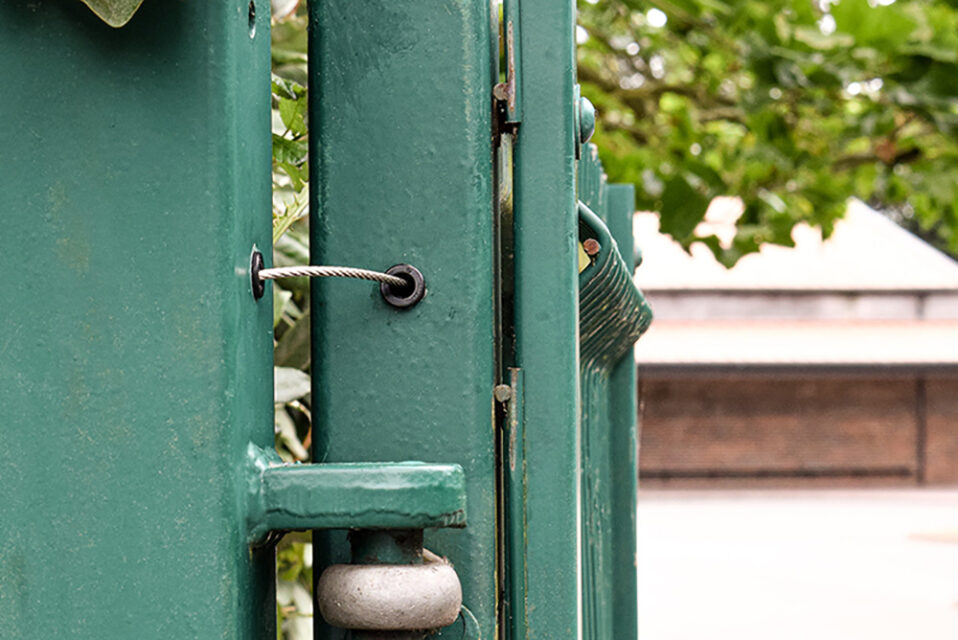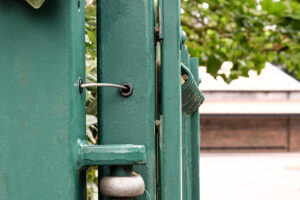 Although only a recommendation so far, we are always encouraging our customers to install a safety device on their gate. British Standards BS EN 12604 recommend either installing a third hinge or a safety device such as a gate tether on all swing gates.
The purpose of a gate tether is to help prevent the gate from falling down if one of the gate hinges breaks. It might be a small device, but it can mean avoiding personal injury or property damage should disaster strike.
---
Find out more about our gate hardware by reading more of our blogs here.